Click the "Product Enquiry" tab below to request  more information about this item.
Description
Power table feed units are easily fitted to many of today's popular knee style milling machines they eliminates manual turning of the feed handwheel  which provides a much consistent feed rate. Both left and right directional feed rates are variable through a potentiometer plus there is a rapid traverse mode to approach or clear the workpiece and the units incorporate an overload cut out and reset control. Included in the easy to install kits are limit switches that are fully adjustable and control feed travel distance with auto shut off.
Power feed units are available for fitting to X, Y and Z axes.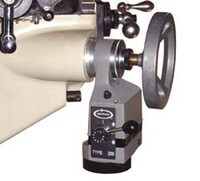 Product Enquiry